HOME PAGE

CORE TECHNOLOGIES:
LOAD BALANCED SERVERS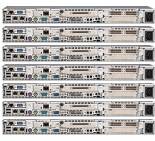 Have you ever seen this message?


If you have, you understand the frustration of not being able to access a site on the web. Chances are, you kept surfing until you found somebody else. Don't let this happen to you!

Our state-of-the-art servers are housed in a secure, fire proof, climate controlled environment. Automatic alarm systems notify our staff of any system failure on a 24 hour basis. A continuous real-time backup system ensures against catastrophic failure.

We use fault-tolerant, mirrored servers in a 'balanced load' configuration. This means that if your host server fails, the 'mirror' will automatically take over within seconds of the event and notify our staff accordingly.

Our network has direct connectivity to tier 1 Internet providers including; MCI, Qwest, Level 3, Yipes, Wiltel, Cox, AT&T and Verio and we performance-route traffic to the fastest and most reliable backbone. In addition our network is self healing, which means that if we loose a backbone or a backbone becomes congested we automatically and instantly route around the problem.

All systems are protected by Uninterruptible Power Supplies (UPS) which insure automatic, continuous uptime in the event of power failure or electrical surges. Should a power failure continue for an extended period of time, a generator automatically provides power for continuous operation.

These features combine to guarantee smooth, stable and high performance for your presence on the web. Here's how our system monitor looks ...