CORE TECHNOLOGIES:
LOAD BALANCED SERVERS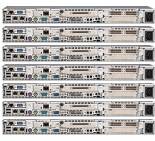 It is our policy to do our utmost to ensure that you have a trouble free experience with your website. Our servers are fully alarmed with staff available 24 hours a day in the event of failure (see 'System Info' for details).

Usually, we will know of any problem (and correct it) long before you will. Our track record of 99% uptime demonstrates this commitment to performance.

Occasionally, the Internet system itself will experience a temporary glitch that will prevent you from accessing your site. This does not mean that all other visitors will be unable to visit your site (the live statistics system will show this); if you suspect this is happening, wait for a half hour to see if the problem clears up.

If you feel that you need to contact us with a general inquiry about a new account, or have any questions regarding your site, please feel free to do so anytime and we will endeavor to help you any way we can.