HOME PAGE

CORE TECHNOLOGIES:
LOAD BALANCED SERVERS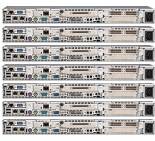 All our website hosting plans accommodate on-line Access database systems. Microsoft Access will easily handle most requirements, but if you need a truly powerful system for large traffic demands, we also offer MS SQL server. Access users can easily migrate to SQL when the site traffic warrants it. Please visit our site home page for further information ....

If you have any questions about how to set up your database, please contact us

The Microsoft Access 97/2000 is a full-featured multiuser relational database management system that designed for the Microsoft Windows operating systems (such as Windows 9x, Windows 2000 and up). Access 97/2000 is extremely visually oriented and easy to use. It makes extensive use of drag-and-drop and visual design for queries, forms, and reports. Access 97/2000 comes with an integrated development environment (IDE), including incremental compilation, a fully interactive visual debugger, breakpoints, and single step-through. These capabilities combine to make Microsoft Access an extremely powerful platform for developing client-server database solutions.

The maximum database size is 1 GB, but your database can include linked tables in other files, and its total size is limited only by available storage capacity. Number of characters in a Memo field can be up to 65,535 characters when entering data through the user interface or can be up to 1 GB when entering data programmatically.

Here are the general Access 97/2000 characteristics:

| Access Object | Maximum sizes/numbers |
| --- | --- |
| No. of concurrent users | 255 |
| No. of fields in a table | 255 |
| Database size | 1 GB |
| No. of characters in an object name | 64 |
| No. of characters in a password | 14 |
| No. of characters in a user name or group name | 20 |
| No. of characters in a table name | 64 |
| No. of characters in a field name | 64 |
| No. of characters in a Text field | 255 |
| No. of characters in a Memo field | 65,535 / 1 GB |
SQL Server 7.0/2000
SQL Server 2000 Enterprise Edition on the Windows 2000 DataCenter can support up to 32 CPU and up to 64GB physical memory (RAM) on a computer!

How Fast Is Fast? SQL Server 2000 can handle 709,220 transactions per minute! SQL Server 2000 has further established its position as the fastest database in the world. With a performance rating of 709,220 transactions per minute (tpmC) and price/tpmC of $14.96 US, a 32-node Compaq ProLiant DL760-900-256P system exceeded the previous record, which was also held by SQL Server 2000.