Adrian Biffen
Systems Administrator
AeroHOST Web systems

How To Build An Effective Website - Optimize Your Search Engine Presence
Introduction
Many clients come to us for website hosting at AeroHOST Web Systems expecting to do business on the Internet by simply putting up a home page on one of our hosting servers, with the expectation that a simple strategy of 'Internet presence' is all that is required to start making money on the 'net.

It is true that the Internet is probably the most inexpensive and powerful marketing system available. We call it the 'great equalizer' because, with a very small investment, your own site can look just as professional as any large corporation. Just think of it as your own private TV broadcasting channel …

---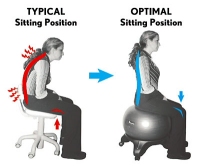 Note: Make money with an excellent affiliate program. Google Adsense and Adwords are not necessarily the best way to make money on the net. The payout per click has dropped dramatically, and all their strategies are designed to get you to pay more money for Adwords campaigns. There are better affiliate programs that pay much higher, and the Evolution Chair is an excellent way to generate an income online.

Millions of people experience severe back pain from sitting in front of computers all day. We highly recommend the Evolution Chair '2 tier ' affiliate program. This product has been an instant hit, and the market has only just opened up. So, get in on the ground floor and make money promoting this product. You can also sign up your sub-affiliates and make money from their sales too. Back Pain Relief Affiliate Program - More Info Here ...
---

However, we often have to explain that site construction is really only the beginning of successful marketing on the Internet. Once you have a website, the very real job of attracting visitors to your site begins. Unless you have a top ranking position in the major search engines, your site will be doomed to obscurity amongst the millions of other sites out there. If someone searches for 'chrome widgets' and your site is listed in the 84th position, it's unlikely that a potential visitor will ever see your home page. The business of increasing your page rankings is referred to as SEO (Search Engine Optimization).

A Key revenue generating strategy for your website are the Google AdSense and AdWords affiliate advertising systems. In this article we'll show you examples of the techniques we used with one of our most successful websites: HDTV Home Theater (opens in a new window).

Google has a new system that makes it possible, for the first time in the history of the world, to deposit five bucks, write a couple of ads, and instantly get access to over 100 million people - in less than 10 minutes. It's called Google AdWords and it's hot. In fact it may be the first and best thing to do to get traffic to your site. If you're interested in an alternative PPC system to Google, be sure you check out Chitika and ClickBank.

You can generate significant additional income from your website (some people make thousands every month) by learning how to use both programs effectively. If you don't want to spend much money while you dabble and learn the ropes, you can cap your daily budget at, say $10, so there's really no significant risk.

I've tested Google AdSense - it really works. To learn more about AdSense, read my Google AdSense / AdWords article.
Here's a recap of the products we recommend you add to your toolkit (all of which we use that easily pay for themselves):
| | |
| --- | --- |
| | Keyword Elite - The Keyword Elite program will very quickly find those critical product areas and keywords that can generate a lot of cash. This is one of those fabled KILLER APPS, we use it all the time. You can download it here and get started immediately. If you only spend some money on one thing, this should be it! |
| | XSite Pro™ - new in 2005, Paul Smithson & Intellimon Ltd created XSite Pro™, an affordable, very easy to use premium web site design and management tool that is a truly comprehensive alternative to authoring programs such as Microsoft FrontPage™ and Macromedia's Dream Weaver™. XSitePro combines and automates all web management features such as page layout, web design with keyword and search engine optimization, navigation menu structures, Google AdSense ads, affiliate links, site maps, pop-up generators, audio recording, testimonials, page redirects, custom code libraries, site maps (including the new Google XML format that Google loves to use), robot spidering control, backup management, server uploading/publishing and many other functions ... download and get more info |
The remainder of this article discusses the fundamentals of optimizing web page design to rank high in the search engines, particularly Google. However it only addresses the 'on site' aspect of search engine positioning, and there is an equally (or more) important aspect referred to as 'off site' optimization. Off-site optimization refers to the process of having other websites link to yours, and Google (and other engines) place a huge emphasis on this link popularity when it comes to ranking your site on or near page one of search results for a particular keyword or phrase. Before you go any further, I would highly recommend Brad Callen's excellent program, SEO Elite.

Brad has created a powerful software tool called SEO Elite that makes the task of setting up 'backlinks' as effortless as possible. Here's a short summary of what you'll be able to do:

| | |
| --- | --- |
| | Find the best keywords for your site. |
| | Find where your site is ranked for your keywords. |
| | Analyze backlinks in Google, Yahoo, AlltheWeb, MSN, AltaVista and find out what your competitors are doing. |
| | Verify that your link partners still link back to you. |
| | Find which pages of your site are indexed in the main engines (Google, MSN, Yahoo, AlltheWeb and AltaVista). |
| | Analyze allinanchor, allintitle or allintext. |