CORE TECHNOLOGIES:
LOAD BALANCED SERVERS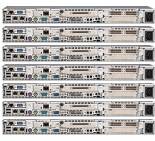 LOGIN and CHECK MSN & HOTMAIL HERE
Register domain names with and check availability:
If you need to RENEW your existing domain, please click HERE.



Thank you for choosing AeroHOST to register domain names. As a registrar, our domain registration fee for your website is $20 USD per year (TOTAL COST for first 2 years is $40 - includes the required central registry fee which covers 2 years of registration). There are NO OTHER HIDDEN COSTS, such as hosting transfer fees, contact information changes, registration transfers, etc. Enjoy the benefits of lower registration costs for your 'dot com' now that the reservation process is no longer controlled by a government sponsored monopoly. When your name is reserved on our servers, it will be immediately available whenever you wish to open your hosting account, design a website and activate your domain (no complicated, time consuming transfer required).
Many of our existing customers have experienced difficulty registering domains (and later transferring them) with the automated systems currently in use by our competitors. Our friendly staff is available by email at any time during the process when you register through our service. If you have specific questions that arise when you have registered your name, send email to our registration support group here.

Here's how to proceed:


If you're ready to register your domain for your website, or you just want to check on the domain availability, please click on the link below:

REGISTER DOMAIN NAME - CHECK AVAILABILITY

If you need to learn more about this procedure and other registration issues, please read our Frequently Asked Questions page for more info ... you'll read about the importance of using keywords in your selection and other important things to consider when choosing names. If you're new to this area, spend a few minutes reading about your choices because there's a lot to learn about choosing an effective name as part of an overall winning strategy for having high ranking in the search engines and a successful website on the internet.
If you're interested in the new domain suffixes that will be available in 2001, please read our article on this topic here.