HOME PAGE

CORE TECHNOLOGIES:
LOAD BALANCED SERVERS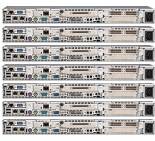 FrontPage Feature Overview
Frontpage 2003 is one of the fastest, easiest ways to build Websites and database applications using Active Server Pages (ASP). Its visual, drag-and-drop interface

and sophisticated Wizards will enable you to quickly build ASP applications that access and update data in real time. Connect easily to online database systems with ASP (Active Server Page technology).

We also support XSite Pro, an alternative authoring program that is optimized for affiliate marketing and revenue generation.
FrontPage 2003 advances your Web development in three key areas.
Designing: Use enhanced design tools to produce better looking Web sites. New layout and graphics tools make it easier to design exactly the site you want.
Coding: Use design tools to generate better code, or expand your code skills. Use built-in scripting tools for interactive results. And with professional coding tools, you can write code faster, more efficiently, and with greater accuracy.
Extending: Connect with people and information in new ways by building Extensible Markup Language (XML) data-driven Web sites using the first commercially available, completely WYSIWYG ("what you see is what you get") Extensible Stylesheet Language Transformations (XSLT) editor. The enhanced publishing features and options help you get your Web pages online more quickly.

Note  XML collaboration requires Microsoft Windows Server™ 2003.
Benefits
Design Better-looking Sites:

FrontPage 2003 includes tools and layout and graphics features to help you work faster and design professional Web sites.

Generate Code Faster and Easier:

The design tools in Frontpage 2003 generate efficient and clean Hypertext Markup Language (HTML), and give you more control over the code. Or, you can apply your coding knowledge by taking advantage of the professional coding tools. With the scripting tools you can create an interactive experience for your audience. And, because the coding tools are easy to work with, you can even use them to start learning HTML.

Extend the Power and Reach of Your Web Site:

With Microsoft Windows SharePoint Services and Windows Server 2003 connected to FrontPage 2003, you can modify and present live data from a range of sources, including XML, to build rich interactive data-driven Web sites in a WYSIWYG editor. Users can post to the Web using just their browsers, while choosing from a broad range of publishing options.