By Adrian Biffen, Senior Partner, Aerohost Web Systems

Operating an automatic autoresponder system should be an important part of any effective marketing campaign. It is probably the most important method of generating new sales and repeat business.

Did you know that it can take up to 7 times contacting someone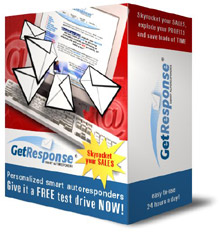 before they purchase a product - it's true!

Thankfully there's GetResponse, an online service that provides anyone with the kind of marketing system they need that can almost guarantee success. It is the #1 autoresponder product and one of the most recognized follow-up systems on the Internet, and there's good reason.

GetResponse uses some of the fastest and most reliable email servers available. This, combined with more specialized features that any other autoresponder, it has become the autoresponder of choice for savvy internet marketers.

Free email marketing course - learn how to use autoresponders:
If you're not sure how an autoresponder can benefit your online sales, we'd like to invite you to receive absolutely free with no obligation Simon Grabowski's excellent "Power Up Your Email" 7 day e-mail marketing course. You'll receive an invaluable series of chapters over a seven day period, and you can cancel anytime. If you are losing sales right NOW, then sign up below - you've got nothing to lose but more sales!

Sign up here absolutely free with no obligation for Simon Grabowski's excellent "Power Up Your Email" marketing course:


Receive a

FREE

,
seven-lesson email course
that will power up
your email marketing
and profits!
The new Smart Responder Pro 2005 has just been launched and it has a top notch collection of powerful new features:

- Personalization of emails
- Unlimited follow-ups
- Complete import and export features
- Send a broadcast email to your entire list all in one shot
- Attach files to any or all of your autoresponses
- Track your leads and responses
- Your choice of 19 different domains names to send from
- Send HTML-enhanced messages
- Your own "confirmation" screen
- Selective broadcasting
- Block unwanted email addresses
- Bounce-back management
- Full activity reports via email
- Free, unlimited technical support

Sign up above absolutely free with no obligation for Simon Grabowski's excellent "Power Up Your Email" marketing course. We've had excellent results with this program and you will too - sign up above for your free course offering, and see how you can use autoresponders to increase and automate your sales - you'll be glad you did!
* * * * *
Here's a recap of the products we recommend you add to your toolkit (all of which we use that easily pay for themselves):
Keyword Elite - The Keyword Elite program will very quickly find those critical product areas and keywords that can generate a lot of cash. This is one of those fabled KILLER APPS, we use it all the time. You can download it here and get started immediately. If you only spend some money on one thing, this should be it!


XSite Pro™ - new in 2005, Paul Smithson & Intellimon Ltd created XSite Pro™, an affordable, very easy to use premium web site design and management tool that is a truly comprehensive alternative to authoring programs such as Microsoft FrontPage™ and Macromedia's Dream Weaver™. XSitePro combines and automates all web management features such as page layout, web design with keyword and search engine optimization, navigation menu structures, Google AdSense ads, affiliate links, site maps, pop-up generators, audio recording, testimonials, page redirects, custom code libraries, site maps (including the new Google XML format that Google loves to use), robot spidering control, backup management, server uploading/publishing and many other functions ... download and get more info


Affiliates Alert - Maayan Marzan has created Affiliates Alert, a program that you can download for FREE that gives you the ability to search the 40,000 item ClickBank marketplace, among other things. The program also provides data such as product ranking, statistics, and other important information. Get notified of fast selling hot new marketplace items

So how can he give it away for free, you ask? He has built into this product a second level that you can purchase - a 'Pro' version that yields even more information. This is for people that plan to use ClickBank as a major source of income and realize that the additional value is well worth the cost of the upgrade. So give it a try; even the free version is very useful, and we found that it provides all the basic info needed to find products that are a perfect match for our subject material (download it for FREE here).